We got around 12 inches of snow yesterday. School and my workplace are closed for the second day in a row. I did the scramble with the other panicked fools on Monday evening: grocery store
and
gas station. It was crowded and there were some pixilated drivers out on the roads. I remembered to stay chill and give everyone some room. And even though I felt like an ant in the anthill you just stuck a stick into, I am so smug that I did those errands. We have milk and bread and can last through.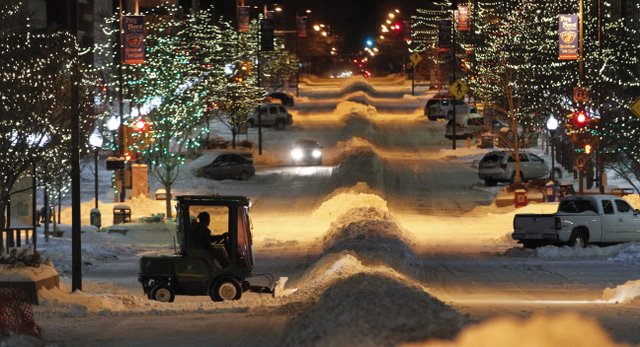 I think I will be going to work tomorrow. Not sure about school but it seems probable. Looming in front of me is my self-evaluation for work. I need to make at least a first draft today. It is a list of qualities that I am to rate myself on with comments. Despite putting it off for a few weeks, it has not done itself. I have to psych myself up to get to the peculiar neutral bragging tone that seems appropriate. I am great and this is how.
Middlesex
, what a happy ending. The comedy/tragedy cufflinks lead into the ending which has both a consummation
and
a funeral. I was quite concerned, with a sick feeling in my stomach, that Calliope was going under the knife to be made a girl. 'It's going to be Hedwig and the Angry Inch all over!' thought I. But no. Dr. Luce was a well drawn character. I was glad that we finally found out why his brother's nickname was Chapter Eleven at the end. Can anyone explain to me why Chapter Eleven's nickname for his sister was the Great Salt Lake? On the same lines I was impressed that the Obscure Object of Desire was never named. That must have taken some fancy writing at times. Father Mike's leaving the rails was crazy, and distracting and unnecessary. Probably no more so than Jimmy Zizmo's disappearance and reappearance but I felt that was better woven into the whole piece.
We may be reading
Lightning Rods
next...